Events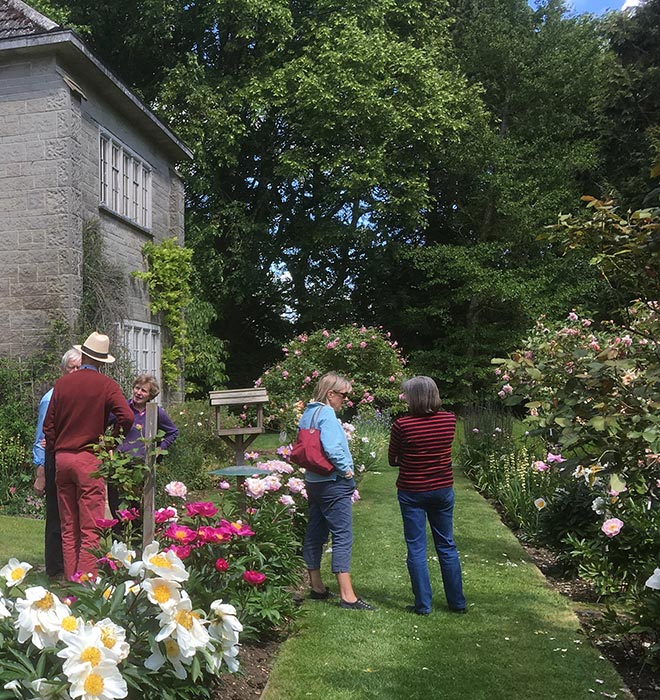 The member events we organise include visits to gardens in Somerset and beyond, many of which are only open to private groups.
Past events have included supper lectures, plant sales and garden parties; we've also enjoyed garden tours to Wales, Ireland and abroad. All these events are a fun way to raise funds to be used in the SGT's education and conservation work.
Our 2023 Visits Programme
From this year we will be using the Eventbrite website to book tickets, which can only be done by SGT members who will be emailed the links to the relevant events. Anyone interested in joining SGT can download an application form from the website (click on the Join tab).
April 20 Thursday 2:30pm
The Manor, Kilmington, Warminster. Wilts. BA12 6RD
by kind permission of Lady Keegan
Member's Ticket £12.50
This garden has been created by the owner over the last 35 years. Lawns and shrubs lead out onto a woodland garden, Italian garden, wild garden with a laburnum arch and a shade garden. Teas will be served in the Conservatory.
May 11 Thursday at 2:30pm
Belcombe Court, Belcombe Road, Bradford-on-Avon BA15 1LZ
by kind permission of Paul & Caroline Weiland
Member's Ticket £27.50
60 acres of garden and parkland surround the Grade 1 house built in 1700 and altered considerably by architect John Wood the Elder. There is a walled garden designed by Arne Maynard. Rupert Golby designed a summer garden to complement an C18th octagonal stone building. We will be introduced to the garden by Timothy Mowl historian and author of the recently re-published book John Wood, Architect of Obsession. In autumn 2022, there was an interesting article on Belcombe in Country Life and the Cottage Orne appeared on the front cover. Refreshments of tea and home-made cakes will be served after our tour.
May 18 Thursday at 2pm
Old Rectory, Litton Cheney, Dorchester, Dorset DT2 9AH
by kind permission of Richard and Emily Cave
Member's Ticket £14
In the pretty Dorset village of Litton Cheney, close to Chesil beach is a 4-acre garden which has natural woodland with many springs, streams, and pools. Arne Maynard designed the formal front garden which has his signature pleached border (crab apple here) together with topiary and soft planting. There is a walled garden, kitchen garden, orchard and 350 rose bushes for a cut flower business. There will be soft drinks on arrival, and after our tour tea/coffee and cake.
May 24 Wednesday 2 pm
Greencombe Gardens, Porlock, Somerset TA24 8NU
by kind permission of Rob and Kim-Nora Schmidt
Member's Ticket £17.50
Greencombe Gardens were created over many years by Joan Lorraine, a founder member of SGT, and are now looked after by Rob Schmidt and his wife Kim-Nora. Rob, who worked with Joan in his school holidays, will be there to welcome us. The garden is situated on the edge of Exmoor with its views of the Bristol Channel and meanders through established woodland with varied ground cover. The garden holds four National Collections: Erythroniums, small mountain-lilies; Vaccinium, 'Whortleberries worldwide', Gaultheria, 'whortleberries for bears' and Polystichum, the 'thumbs-up' fern. We will conclude our visit with a cream tea on the lawn.
June 6 Tuesday at 6pm
Common Farm, Barrow Lane, Charlton Musgrove, Wincanton BA9 8HN
by kind permission of Georgie Newbery
Member's Ticket £15
Those of you who came to the talk on Secret Gardens of Somerset at the AGM may recall this garden – one of the few which SGT had not visited – and so we have arranged this visit. It is a working farm, growing flowers commercially. We will have a tour by the enthusiastic Georgie. This is an evening visit and there are no refreshments provided. Please be mindful that obviously this is a working flower farm and so walking would be on grass paths, some of which can be a little uneven if it's wet (or, as it was last summer, very dry).
June 26 Monday at 2:30pm
Seend Manor, High St, Seend, Melksham SN12 6NX
by kind permission of Amanda Clark
Member's Ticket £27
A stunning walled garden created over the past 20 years and designed by Julian & Isabel Bannerman to reflect important parts of the owners' lives: China, Africa, Italy and England with hornbeam hedges and extensive treillage. There is a cottage orné, a temple, a Chinese ting, a grotto, fountains, parterres and a fern walk. A kitchen garden and courtyard garden. The visit will include tea and coffee.
July 6 Thursday at 10:30am
Hanham Court, Ferry Lane, Hanham Abbots, Bristol, Somerset. BS15 3NT
Member's Ticket £33
We will have a private group tour of the garden which was created by designers Julian and Isabel Bannerman who owned Hanham Court for many years. The roses at Hanham Court have just been featured on Gardeners' World. It is a wonderfully romantic garden with topiary in box and yew and in the series of interconnected rooms, there are lots of quirky touches. The visit will include coffee and cake and a guided tour.
July 13 Thursday at 2:30pm
Midelney Manor, Midelney, Langport, Somerset TA10 0LU
By kind permission of Alice and Jeremy Acton
Member's Ticket £23
Midelney Manor has been in Alice's family, the Cely Trevilians, for 500 years. Set in the middle of 400 acres of farm and woodland, it is surrounded by beautiful walled and formal gardens. Alice will give a history tour of the house and garden followed by a cream tea.
September 6 Wednesday – a note for your diaries, the Annual General Meeting will be held on 6 September 2023 at Hauser & Wirth, Durslade Farm, Bruton, BA10 0NL. More information will be sent to members nearer the time.
September 13 Wednesday at 10.30am
Plaz Metaxu Coombe House, Witheridge, Devon, EX16 8PT
by kind permission of Alasdair Forbes
Member's Ticket £20
Described as "probably the most significant new garden to have been made in Britain in recent decades". The inspiration behind the design of Plaz Metaxu includes Greek mythology and poetry. This is a garden where formal hedges create magical spaces in a wonderful landscape. No refreshments, but we will park in the field, and are welcome to picnic there afterwards.